Join us for SVWC 2017:
FRIDAY, JUNE 30 – MONDAY, JULY 3
For four days, SVWC writers and readers laugh and learn, hike and talk, and stretch the limits of their imagination. The days are filled with books, ideas, stimulation and fun. Extraordinary writers and thinkers talk with an engaged audience about their work, the world, and discuss why literature matters. Take a moment to read the 2017 Welcome Letter from SVWC Board President, Grey Bryan.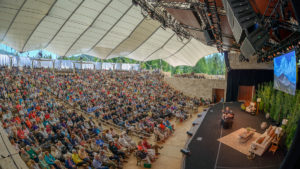 "SVWC is everything I love in one place, during one week…I find that the most unique part of the conference is its enormous heart. The conversations and interactions renew me spiritually and make me want to keep reaching, however impractical and distant the goal might be. SVWC is my church." Firoozeh Dumas